Family Ministry Events - Fall 2021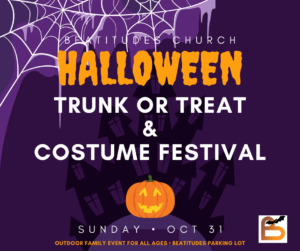 BOO! BEATITUDES HALLOWEEN TRUNK OR TREAT & COSTUME FESTIVAL EVENT
Sunday, Oct 31 | Church Parking Lot
Old traditions renewed! Our Halloween Trunk or Treat and Costume Parade made a BIG come back this year as families gathered in our church parking lot to pass out CANDY CANDY CANDY from decorated cars (and Pastor Tony's motorcycle) to our small goblins and ghouls! Who could resist all that CANDY and Kris Nyman's homemade pumpkin pie to the first prize winner?!
DREAMS FILLED THE SKIES...MOSTLY (DARN WIND)
Sunday, Oct 17 | 11:30 am | Outdoor Plaza
Our kite contruction crew!
Who's driving this bus anyway?!
As predictable as Arizona weather can be most of the year, Mother Nature held back on us last Sunday for our Family Ministry Kite flying event. Despite the windless skies, our families had a FANTASTIC time drawing their dreams on kites and urging them upward with sheer manpower. A special thanks to Lee Case for his kite framing services as well as our other volunteers.   
Children/Youth Enrichment Program
Family ministry is a safe place for families to spiritually journey through life together as the wonderful humans we were born to be, sharing in a divine relationship with each other and the community as we walk through the stages of life while making God's love real.
During our gatherings, we will have a variety of experiences guided by sacred writings to develop the natural gifts of the person in caring for our diverse humanity and our Earth home.
PARENTS:

Children's and Youth Enrichment classes will meet IN-PERSON (masked and socially distanced) during worship services on a

staggered

schedule in Britt Chapel, and on Zoom.
Contact our Family Ministry Coordinator, Deni Nordmeyer, for the Zoom links at:
dnordmeyer@beatitudeschurch.org
Beatitudes Children & Youth Connect on Zoom
Children (1st-6th grades) | 2nd and 4th Sundays | 4 pm MST
Youth (7th-High School) | 1st and 3rd Sundays | 7 pm MST
At Church of the Beatitudes we are committed to creating a worship experience that will engage your child in an atmosphere of fun, acceptance and love.
We encourage your partnership in your child's spiritual development through:
Providing tools to integrate Sunday teachings at home
Parental/Family Education and Support
Family Worship
Your Beatitudes Church team provides:
Opportunities for children to develop a personal connection with God
Spiritual Education
Music Ministry
Family Gatherings
Planning your first visit:
Check-in at the visitors table to complete a registration form for each child. The Children's and Youth Enrichment classes currently meet on a staggered schedule each week. 
For young children not be participating in the Children's Enrichment class, you may want to prepare a bag for your child that addresses his/her specific interests and any dietary needs.  Items to consider bringing may include coloring pages and pencils or crayons, a favorite stuffed toy or blanket and a snack. We have a Family space at the back of the Worship Center with comfortable couches and room to move for little ones. Our ushers are happy to direct you to this area.
At this time, Youth Enrichment class is held on a staggered schedule during the Worship Service and online via Zoom. This program provides students an opportunity to connect with ways to apply the lesson in their lives through active participation in:
Lively Discussion
Engaging Activities
Fun Games
Enriching Music Ministry