Who is the Arts Council? Beatitudes has always had a rich and robust appreciation for the Arts. From gatherings at local museums and art galleries to providing gallery space for local artists, the Arts Council makes God's love real for our community in tangible and visual ways. Since we are not currently meeting in-person due to COVID-19 restrictions, this committee is not meeting. Please check back often for updates when our activities will resume.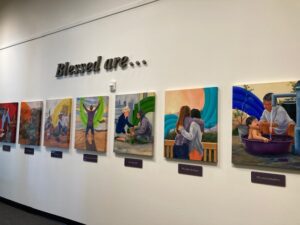 NEW INSTALLMENT IS A LEGACY FULFILLED
The Arts Council's latest installation in our Worship Center is the culmination of a year's hard work and inspiration from Artist and Beatitudes longtime member, Julie Frye. The eight paintings depict Jesus' Beatitudes and the legacy of our church. A Grand Opening reception is set for this Fall. Stop by and take a look!