Who is Faith in Action (FIA)? We are a team of "doers" who believe that making God's love real for others begins with serving.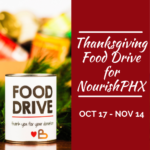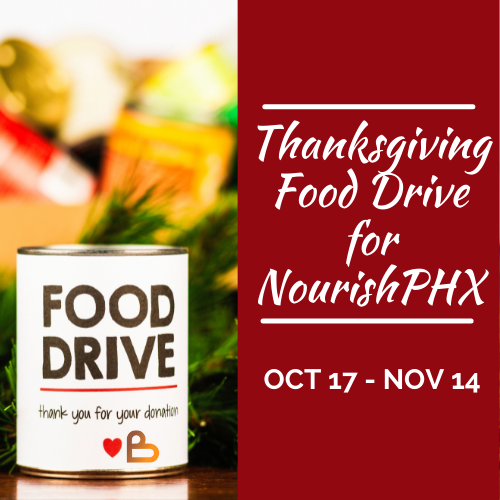 THANKSGIVING FOOD DRIVE FOR NOURISHPHX
Food donations will be given to NourishPHX and will run from October 17 – November 14.
Please bring your donations to the church.

Food items consist of:
Canned Gravy ** Stuffing ** Mac & Cheese  ** Canned Fruit & Vegetables **Cranberry Sauce ** Canned Yams  ** French Fried Onions  ** Bread Mixes ** Canned Potatoes ** Instant Potatoes  ** Beans/Rice  ** Cream of Mushroom Soup **PLEASE CHECK EXPIRATION DATES ON ITEMS**
Monetary donations will also be accepted. Please make your out to Church of Beatitudes with "Nourish Phx – Food Drive" in the notation line on your check.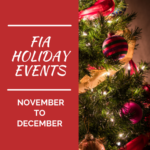 UPCOMING HOLIDAY EVENTS
NOVEMBER 21 THROUGH DECEMBER 5 – Holiday Sock Drive for ShoeBox Ministry. FIA is collecting new socks for our Holiday Sock Drive.
NOVEMBER 17 THROUGH DECEMBER 12 – FIA is asking for your help to bring Christmas to two deserving families. FIA is sponsoring two families from Maryland School to make sure they have a wonderful Christmas. From 11/17 to 12/12, a small Christmas tree will be on display at the FIA table with gift tags hanging on it for everyone to select and purchase item(s) requested by our two families to make their Christmas a little brighter.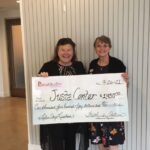 LABOR DAY DONATION DRIVE FOR JUSTA CENTER – A HUGE SUCCESS!
Beatitudes Church has a long tradition of hosting an annual luncheon for seniors experiencing homelessness on Labor Day at the Justa Center. The pandemic made that impossible this year. However, the Beatitudes community did not give up, and raised $1,450 in monetary donations to give to the Justa Center! Thank you for your continued support of this important and vital mission! Check back soon for new ways you can help Justa Center continue to serve their seniors!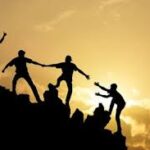 FIA MONTHLY MEETING
2nd Monday of Month | 6:00 pm MST | Online on Zoom 
Faith in Action will be meeting on September 13 at 6 pm MST online via Zoom. If you have a heart for serving and want to make a difference in our community, join us to see all of the exciting ways we are making God's love real for others! For Zoom link, please email us at media@beatitudeschurch.org
---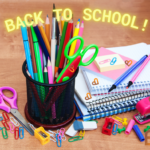 SCHOOL SUPPLY DRIVE MARYLAND SCHOOL – A HUGE SUCCESS!
Faith In Action is grateful to each and everyone of you who were able to donate school supplies and/or monetary gifts for Maryland School to help get our kids back to school. You showed what it means to make God's love real!
PLEASE NOTE: If you have a used working laptop you are no longer using or know of someone who has one to donate or would like to contribute a monetary donation to help purchase a used laptop, please contact Cathy Kim at ckim248@yahoo.com.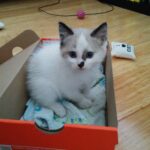 AZ HUMANE SOCIETY SHOEBOX DRIVE
(TEMPORARILY SUSPENDED) WANTED: EMPTY SHOE BOXES FOR THE HUMANE SOCIETY! Don't forget our furry friends at the AZ HUMANE SOCIETY! They want shoe boxes any size for the cats and kittens. It provides them a secure place and the box goes to their new home. Boxes are collected at the end of each month. Donates can be left in the Faith in Action basket in the foyer or you can also drop them at the front office. Make a cuddly kitten happy and secure!
If you are interested in helping with the above drives, please contact a FAITH IN ACTION member by calling the church front office for contact information.