Who is Faith in Action (FIA)? We are a team of "doers" who believe that making
God's love real for others begins with serving. 
Thank you to all who donated!
The 40 Days for 40 CANS Drive benefitting NourishPhx (formerly ICM)

Saturday, April 3, 2021 | 10:30 to Noon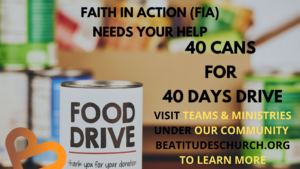 Our canned food and clothing drive benefitting NourishPHX was successful thanks in part to the contactless drive through which made donation drop off seamless and safe. We also collected the following monetary donations:
    $1060 (money)
      

$40

(grocery gift cards)
A special THANK YOU to all the volunteers for their 

CAN-do spirit!!
Maryland School provides educational resources for several refugee families in our community. A father from Eritrea, a country in Eastern Africa, is signing up for classes at Rio Salado Community College and is very much in need of a laptop computer in order to access his classes.  He is currently using one that belongs to his teenage child, but they both need access at the same time, so it is not working out. They are a family of five people living in a small apartment, and do not have room for a regular P.C. computer.

If you have a used working laptop you are no longer using or know of someone who has one to donate or would like to contribute a monetary donation to help purchase a used laptop, please contact Cathy Kim at ckim248@yahoo.com. We have also identified several good used MS Windows compatible laptops on Ebay for under $150 that could be purchased for the father as well as several other refugee families in the Maryland School community. 

You can help Maryland School in a simple way. Make a 2020 year-end tax credit donation of $200 (single) or $400 (for couple). Their budget is stretched and even more so this year with extra expenses. A contribution would be much appreciated. July 15th is the deadline to make a 2020 donation. Download the PDF form below and make a difference!
---
(TEMPORARILY SUSPENDED) WANTED:  EMPTY SHOE BOXES FOR THE HUMANE SOCIETY!  Don't forget our furry friends at the AZ HUMANE SOCIETY!  They want shoe boxes any size for the cats and kittens.  It provides them a secure place and the box goes to their new home.  Susan stops by at the end of each month to take the boxes we have collected. Place them next to the Faith in Action baskets in the Narthex or you can also drop them at the front office. Make a cuddly kitten happy and secure!
(TEMPORARILY SUSPENDED) MARYLAND SCHOOL needs a few staple items all year round.  Their budget is tight and often these items are purchased by the teachers using their own money.  The items are:  HAND SANITIZER, SANITIZING WIPES, KLEENEX, AND SUPER STICKY POST IT NOTES.  The super sticky post it notes can be found at the Office stores.  It would be greatly appreciated if you can donate any of these items every now and then.
(TEMPORARILY SUSPENDED) BISHOP'S PANTRY needs replenishing of most everything except peanut butter and cereal.  The most needed items are canned fruit and vegetables, pasta and pasta sauce, tuna & other canned meat, rice,,hearty soups and canned dinners such as beef stew, ravioli, spaghettios etc.  Please remember to check the expiration dates.  Also, please donate sauces and gravy in cans not in jars to prevent glass breakage.
If you are interested in helping with any of the above drives and missions, please contact a FAITH IN ACTION member by calling the church front office for contact information.